Finding &
Purchasing
Plants

2016 Club Project
This year, the club made up a planter for the children's garden at Cleveland Botanical. "The Prickly Planter" was put together by members; cactus and succulents were provided by members.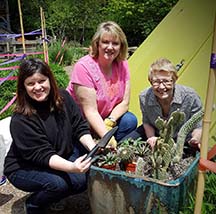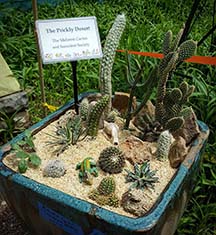 2011 Club Project
At our 2010 Holiday Party, the club voted to provide cactus and succuluent seed to members at the January meeting. Some members has grown cacti from seed over the years, but others were wary of attempting to "grow their own." So, for those that had a bad experience or had never tried growing from seed, the club agreed to make a year-long project out of growing cactus from seed.
Sufficient seed was purchased from Mesa Gardens and repackaged for club members and distributed at the January meeting. The goal was to have every member grow cacti and succulents from seed. Club members would share their experiences throughout the year.
The January meeting was held at CBG. Bill Hendricks provided a great hands-on workshop about harvesting, cleaning, storing, sowing and seedling growing.
Two types of cactus seed and two types of succulent seed were provided:
Rebutia
Rebutia
Faucaria tuberculosa
Faucaria
From his own collection, Bill provided seed of:
Notocactus
Boweia
Members left with seed and everyone is waiting to hear about their colleagues success at the next meeting!
2010 Club Project
Planters In the Madagascar House

Cactus From Seed
How small are cactus seed? Here are Rebutia seed next to sweet pepper seed. Not all cactus or succulent seed is this size; some are larger but some are even smaller.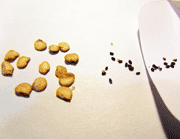 The seeds are planted in a soilless mix (below left). Some growers us a layer of grit (belwo right) as the top layer in the pot to help prevent "damping off", a fungus that kills seedlings.

The seeds are watered and placed in a warm area with plenty of light. Bottom heat greatly enhances germination.
Two weeks after planting the Faucaria seedlings are up and growing.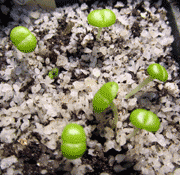 Four weeds after sowing, the Rebutia seedlings are still very small.

What a difference a few weeks makes! After seven weeks you can readily see the true leaves of the Faucaria - notice how you can already see the mouth and teeth of the "Tiger Jaws", the common name of this plant.

Other Cactus Seedlings
Six month old Astrophytum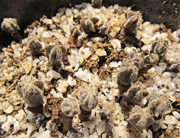 One year old Mammilaria